Kirkby residents fight Spicer Grove regeneration plans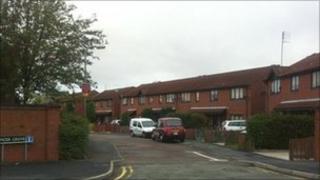 Residents have pledged to fight plans to demolish their homes on Merseyside as part of a £200m redevelopment.
Properties in Spicer Grove, Kirkby, are on land earmarked for development as part of the plans, which include a Tesco store.
Knowsley Council said it may be necessary to compulsory purchase the houses, which are part of a co-operative managed by Plus Dane Group.
Tenants have been told they will be offered replacement homes.
Residents said the 20 homes should not be part of the plans as they were only constructed in 1992 as part of a previous regeneration scheme.
Dorothy Reid, a resident in Spicer Grove said: "We were a group of ordinary housewives living in flats and maisonettes and there was a patch of derelict land the council wanted developing.
"We gained the funding to have this estate developed, and it is regeneration. Plus Dane Group should be protecting their tenants.
"It's just unbelievable the torment we've had."
'Allay fears'
Gerard Murden, managing director of Plus Dane Group said: "We know that some people must be very worried and concerned, but we are in close contact and want to make sure that no-one is worse off.
"We are determined to work with our tenants over the coming weeks and months to allay their fears and make sure they are involved in everything that is happening."
A spokesman for Knowsley Council said: "The use of compulsory purchase order powers may be necessary to ensure that all aspects of the £200m regeneration scheme can be delivered and the benefits of the project to the community maximised.
"Negotiations with the land owners and occupiers are well advanced and every effort is being made to secure the land voluntarily. Should these discussions not prove successful, the council is being asked to agree in principle to the use of compulsory purchase order powers."