Cleaning the secret Mersey Tunnel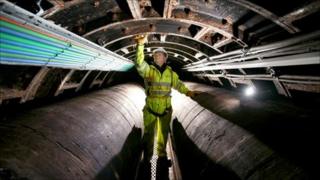 It is probably the biggest jet wash cleaning job in the world.
Imagine scouring 68 miles of water pipes which supply 210 million litres of water a day to Merseyside families.
That is the challenge faced by United Utilities, which will spend the next 10 years cleaning the pipes which bring water from Vyrnwy Lake in mid-Wales to Liverpool.
Hidden 90ft below the bed of the River Mersey, the tunnel section of the Vyrnwy Aqueduct contains three water pipes, which United Utilities regional manager John Butcher says are in desperate need of a spring clean.
'Like your kettle'
"You can imagine that water has been flowing through these pipes for 100 years," he said.
"You get a natural build-up on the inside, just like your kettle at home.
"The dark staining is naturally occurring manganese and has no health issues but if we suddenly increase the flow through one of the pipes it would wash it all off and our customers wouldn't like to see discoloured water coming through their taps."
The pipes are cleaned using a special cleaning ball which moves up and down sections of the pipe spraying high pressured water inside, much like jet washing a driveway.
"The pressure washer blasts the inside of the pipe and washes all this loose material off," Mr Butcher continued.
"We collect it all and take it away and then we've got a lovely clean pipe for the next 100 years."
The ball cleans a 400m section of the pipe at a time.
Whale bones
The pipe is sectioned off to stop the water supply before the ball is propelled by water pressure inside the pipe.
It is a long way from the basic method used in the past where whale bone brushes would be used to scrape the pipes clean.
"Fifty years ago the whale bones would be put in the pipes as the water supply was going. They would stir all the muck up which would then come out of the taps," Mr Butcher said.
"That would be completely unacceptable today so we use this pressure washer."
The tunnel was built by Liverpool Corporation Waterworks in 1938 to a design by civil engineer George Deacon who was behind the Lake Vyrnwy scheme, but the project was fraught with problems.
"It took five and a half years to get 300 yards because the tunnel kept collapsing in, it was a nightmare," Mr Butcher said.
"It was the biggest engineering challenge they had on the whole aqueduct and that includes 80 miles of pipeline in the reservoir."
The cleaning programme is part of United Utilities £3.6bn project to improve the North West's water and sewage network.