Liverpool riots: Merseyside Police reveal £2m costs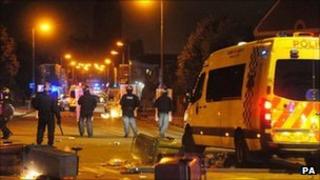 The total cost of the August riots in Liverpool is estimated to exceed £2m, according to a Merseyside Police Authority report.
The total figure for the riots on 8 and 9 August includes claims from businesses and individuals for losses under the Riot Damages Act.
The largest portion of the bill is £1.7m for police overtime payments.
There are also costs for damage to police vehicles and the re-glazing of Admiral Street police station.
The authority said it was currently unclear how much of the cost of the disturbances it would be able to recover from the Home Office and what proportion the authority would have to fund itself.
Disturbances began in London on 6 August following the fatal shooting of Mark Duggan by Metropolitan Police firearms officers. The rioting spread to several other cities, including Liverpool, over the next few days.
Vehicles damaged
The report details how Merseyside Police moved to extended 12-hour shifts during the disturbances.
Following the first night of rioting, 26% of the force's Police Support Unit vehicles had to be taken off the road due to damage caused by rioters.
Windscreens on 23 vehicles needed to be repaired or replaced following the disturbances.
Admiral Street police station suffered extensive damage to its windows, although the report states that the protective glass installed prevented further damage to the building.
Claims under the Riot Damages Act for damage caused by the disturbances can be made through Merseyside Police Authority.
The act does not cover claims for loss of trade or damage to vehicles, unless they were in a building damaged during the disturbances.
The authority said it had so far received a total of 11 legitimate claims. The deadline for claims is 21 September.