Walrus swipe card introduced for Merseyside travel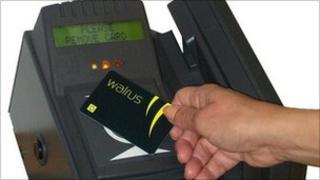 A single-use electronic swipe card for public transport journeys on Merseyside has been launched.
The Walrus, similar to London's Oyster card, covers travel on rail, ferry and bus services in the region.
Users will also be able to buy other items, such as drinks, with the card, which is the first in the UK to cover non-transport related products.
It will initially replace all-zone season tickets with additional services added in 2012 and 2013.
Neil Scales, chief executive of Merseytravel, said: "This launch signals a revolution in the way people pay for and use public transport.
"Walrus will see the widest range of uses of any smartcard in the country being fully integrated into all our varied forms of transport and ticketing, ultimately saving our customers time and money.
"We are aiming towards a network where people pass seamlessly through our stations and ferry terminals, while also being able to board buses and even buy a coffee.
"In London less than 2% of public transport journeys are paid for in cash, and while cash will always be an option, Walrus will be a far more convenient option for customers, drivers and operators alike."