Giant girl puppet to be used for Liverpool Titanic event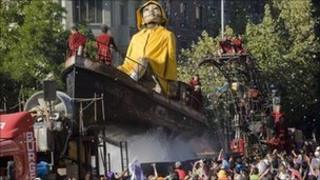 A giant puppet of a girl will lead three days of street theatre in Liverpool to commemorate the sinking of the Titanic.
Sea Odyssey, from 20 to 22 April 2012, will mark the 100th anniversary of the maiden voyage of the liner, which was registered in Liverpool.
The girl puppet was used in the 2006 Sultan's Elephant in London, which was seen by 1.5 million people.
Liverpool City Council said it will be the most complex event it has staged.
'Magical theatre'
The event will be produced by Nante-based French company Royal de Luxe.
Artistic director Jean-Luc Courcoult said he was inspired by a letter which he saw in Liverpool's Maritime Museum written by a young girl whose father was a passenger on the Titanic.
He said: "Liverpool, for me, stands out as an island in its own right, within a larger island.
"Passions for football, the revolutionary music and poetry of the Beatles, and the legendary story of the Titanic, give the city a strong, emblematic identity, and the people a compelling warmth which pulls me to them."
Joe Anderson, leader of Labour-run Liverpool City Council, said: "This will be a magical piece of theatre, the likes of which many people will never have seen before.
"The Titanic will always resonate with Liverpool, particularly as the name of the city was emblazoned on its stern and many of its crew were from the Merseyside area."
The commemoration will be the last project to use European legacy funding from Liverpool's year as European Capital of Culture in 2008.
In 2008, the La Machine event, which saw a 50ft mechanical spider take to the city's streets, attracted crowds of thousands over seven days.
Liverpool is one of five cities holding Titanic-related events in 2012. The other cities are Belfast, Southampton, Cherbourg and Cobh.
The White Star liner RMS Titanic sank when it struck an iceberg in 15 April, 1912 on its maiden voyage from Southampton to New York. More than 1,500 people lost their lives in the sinking.