Funeral for Robbie Crofts who was found drowned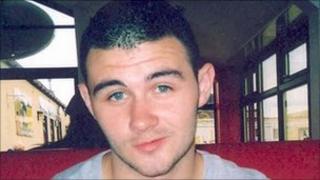 The funeral of a 21-year-old man who drowned off the Wirral coast has taken place.
The body of Robbie Crofts was discovered on 11 September, two weeks after he disappeared.
His girlfriend, 17-year-old Hayley Holmes, was found dead on New Brighton Beach on 29 August. She had also drowned.
The service for Mr Crofts, who had a two-year-old daughter, was held at Landican cemetery in Woodchurch.
The couple had spent the day at Liverpool's Mathew Street festival on 28 August.
The body of Hayley, from Birkenhead, was found near New Brighton promenade early the following morning.
A pair of women's sandals and a pair of men's trainers were found close to where her body was discovered, along with a mobile phone.
Mr Crofts' body was found in the water near Birkenhead on 11 September.