TJ Hughes store reopens in Liverpool city centre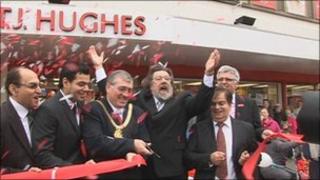 A TJ Hughes store saved from closure when the firm went into administration has reopened in Liverpool city centre following a refurbishment.
The group, which had 57 stores around the UK, called in administrators in June after a poor period of trading.
The London Road store was bought along with five others, and the brand, by Lewis's Home Retail in August.
Its reopening was attended by the city's Lord Mayor Frank Prendergast and Liverpool actor Ricky Tomlinson.
Stores in Widnes, Sheffield, Glasgow, Newcastle and Eastbourne have also been bought by the company, which is part of the Speke-based Benross Group.
A spokesperson said it hoped to relaunch the TJ Hughes online shopping site by the end of September.