Liverpool D-Day veteran George Cross dies aged 102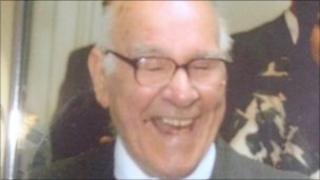 Tributes have been paid to a war veteran from Liverpool, who has died at the age of 102.
George Cross, who is believed to have been the city's oldest man, was born and brought up in Toxteth and lived in south Liverpool all his life.
To mark his 100th birthday, the former bombardier retraced his journey to the site of the D-Day Normandy landings for the 65th anniversary of the event.
He died in hospital on Friday from pneumonia.
His daughter, Joyce Atherton, said: "He was a very friendly person. He was always happy, he was very generous and very caring."
'Great man'
Her father received an award from Liverpool City Council for his "exceptional contribution to the city", and also had a Liverpool apartment block named after him, George Cross Court in Park Road.
She said: "He got the award for the care in the community, he used to run coach trips for all the elderly. He was an exceptional role model."
Mr Cross started painting at the age of 67, and had exhibitions at the Liverpool Academy of Arts in Seel Street and St George's Hall.
His work has been compared to that of Salford artist LS Lowry.
His daughter said it all started when a friend asked him for a favour.
She said: "One of the ladies in the church said to him, 'I want you to paint a poster for me for the rummage sale', and he said 'I can't do that because I haven't any paints'.
"So a neighbour bought him a set of paints and that's how he got started."
Mrs Atherton's husband, Derek, said Mr Cross was a very happy character.
"He was a very wonderful man," he said.
"I have never known him to have a temper or anything like that. He has always been very placid in his temperament, he has always had a smile on his face. I have never known him to be bad tempered.
"Sometimes you would wonder could he be bad tempered, but no, he whistles, and smiles, he was a great man like that."