Tree sculpture for Chester church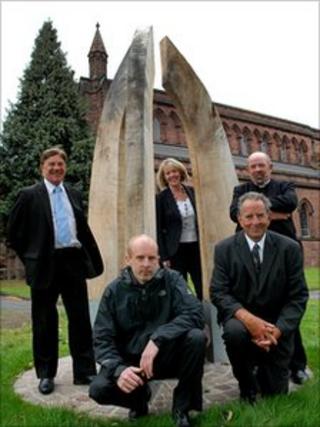 A large curved tree style sculpture has been unveiled in the grounds of a Chester church.
The three metre high artwork is in the grounds of St John the Baptist Church in the city centre.
The work, which includes a red sandstone bench is made from the wood of a diseased Whitebeam tree which once stood in the churchyard.
The original tree was removed to open up the area at the rear of the church and reduce anti-social behaviour.
The sculpture, by artist Nick Horrigan, is on the site of the now ruined St James Chapel.
Rita Waters, chief executive of Chester Rennaissance said: "Nick's sculpture complements its surroundings, the grounds and the historic fabric of the church and has helped to enhance the regeneration of the area and the public realm improvements."
St John's rector, the Reverend David Chesters said: "We have something new, modern and exciting on this ancient site that brings these gardens alive.
"We should be thankful that enterprise, initiative and artistic skill have combined to create something that complements the great Church of St John."