Graham Begley 'crushed to death' at Halewood Jaguar plant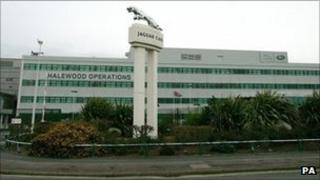 A man who was crushed in an accident at the Jaguar Land Rover plant on Merseyside died from asphyxiation, police have said.
Graham Begley, 49, was taken to hospital after the incident at the Halewood factory at about 20:00 BST on Monday, but died later that night.
A post-mortem examination found the factory worker suffered severe chest and abdomen injuries.
Merseyside Police and the Health and Safety Executive are investigating.
Part of the plant was sealed off following the incident.
A spokesman for Jaguar Land Rover said the company's senior management were at the plant on Monday night trying to establish what had happened.
About 3,000 people are employed at the factory, which makes the new Range Rover Evoque and the Freelander.