Labour conference: Andy Burnham backs Hillsborough families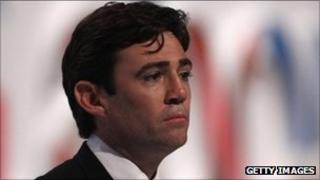 Shadow Education Secretary Andy Burnham has urged Labour conference delegates to back the Hillsborough families in their bid to see documents relating to the disaster.
A Commons debate will take place next month after more than 100,000 people backed a petition on the Home Office website for the files to be released.
The MP told the conference in Liverpool he felt passionately about the subject.
He said the city had "borne the deepest scars imaginable".
Ninety-five Liverpool supporters were killed in a crush of fans at the Hillsborough stadium in Sheffield on 15 April 1989, where the club was playing an FA Cup semi-final against Nottingham Forest.
The 96th victim was left in a coma for three years and died in 1992.
The files detail meetings about the tragedy held by then Prime Minister Margaret Thatcher.
Answers sought
In 2009, the then Labour government set up the Hillsborough Independent Panel, whose task was to "oversee the maximum possible public disclosure of governmental and other agency documentation relating to the Hillsborough tragedy and its aftermath".
The Information Commissioner Christopher Graham ruled in July this year that some files should be released, ahead of the usual 30-year rule, following a BBC freedom of information request, which was made before the panel was established.
However, the government is appealing against that ruling, and has said it wants the documents to be released to the panel first rather than all at once to the public.
The petitioners, however, are demanding that the information given out is not pre-filtered.
A Commons debate is scheduled to take place on the subject on 17 October.
Mr Burnham, who is MP for Wigan and Leigh, said: "For 22 years this city has borne the deepest scars imaginable, when 96 of its sons and daughters didn't come home from an FA Cup semi-final.
"As it sought answers, obstacles were thrown up and insults added to the injury.
"Perhaps we could have done more. But, with Gordon [Brown's] support, Labour made the historic commitment to disclose all public documents through the Hillsborough Independent Panel."
He added: "Conference, I ask you today, that we, our party, stands with those Hillsborough families until they finally prevail in their dignified campaign in truth and justice."