Linda Bakewell murder: Philip Martins jailed for life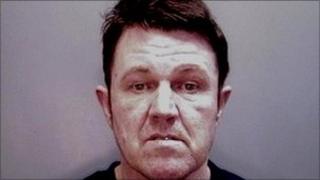 A man has been jailed for life for murdering a Liverpool solicitor before hiding her body in the boot of his car.
The jury at Chester Crown Court convicted Philip Martins of smothering and strangling Linda Bakewell, 45, who was director of a law firm.
Martins, 48, a machine operator from Widnes, Cheshire, had denied murder, claiming Ms Bakewell had accidentally choked to death performing oral sex.
The court heard he probably killed her when she refused his sexual demands.
He was told that he must serve at least 18 years in prison.
Jurors heard that the machine operator, of Somerford Walk, either strangled or smothered Ms Bakewell, before hiding her body for four days as a desperate search was conducted by her family, friends and police.
Judge Elgan Edwards told Martins his conduct had been "quite disgraceful".
'Besotted with you'
The judge said his behaviour towards "this unfortunate woman, who was besotted with you" was contemptible.
"That contempt was practised during her life and continued after you had killed her," he said.
"I am satisfied that you intended to kill her in that dark spot in Widnes.
"You then coldly and calculatedly tried to hide the body and to obstruct her friends and family, who were desperate with worry as to what happened to her."
Ms Bakewell, a director of Liverpool-based Armstrong Solicitors, was described in court as a "quiet, modest woman with a love for life".
She met Martins in 2006 through mutual friends on the Northern Soul music scene.
Anne Whyte QC, prosecuting, said she had tragically become "besotted" with the divorced father-of-three who was "only too happy to take advantage of her affection and her wallet".
The jury heard it may never be known how the solicitor, from Prescot, Merseyside, died on 20 November 2010.
She was last seen with Martins in a Widnes pub at 01:30 GMT before moving to another bar where he carried on drinking.
Ms Bakewell, who was not drinking because she was driving, drove them both to an industrial estate on the outskirts of the town after asking him to show her where he worked.
Her parents called the police when she failed to meet them at their house.
"She was almost certainly dead by then because it was so out of character for her to miss an appointment," said the prosecution.
Her sister June went to Ms Bakewell's home and spent Saturday night waiting for her return.
"While [June] was in the house, anxiously hoping and waiting, Linda's naked corpse was lying under the kitchen table at Philip Martins' home," said Ms Whyte.
"Instead of doing what any innocent person would do and call for help, [Martins] spent the next four days in callous indifference going about his business."
Det Insp Jo Miller, of Cheshire Constabulary's major incident team, said: "Martins showed little regard and little respect for Linda, in the way that he treated her shortly before her death and after her death."