Liverpool councillor defects from Lib Dems to Labour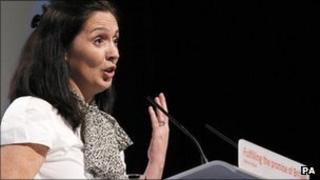 A Liberal Democrat councillor in Liverpool has defected to the Labour party, saying she could not "defend the indefensible".
Lynnie Hinnigan received a standing ovation when she told the Labour party conference of her decision.
She told the conference: "Nick Clegg lied, he lied to me and he lied to the people of Liverpool."
A Lib Dem spokesman said the decision to join the coalition was "overwhelmingly endorsed" by members.
He added: "According to independent analysis by UCL and the BBC, 75% of our manifesto made it into the coalition agreement including the four priorities we printed on the front of our manifesto: tax cuts to people on low and middle incomes, extra support for disadvantaged children, a Green Deal for the economy and political reform.
"Party members have had real influence since the election in shaping the government's agenda, including on the NHS.
"It is disappointing that Councillor Hinnigan decided not to take the issues she raised to our conference to take part in our democratic process."
Labour councillor Joe Anderson, leader of Liverpool City Council, said: "Like millions of voters across Britain, Lynnie feels totally let down by the broken promises of Nick Clegg, and a Lib Dem party that has trebled tuition fees, increased VAT and has cut the Educational Maintenance Allowance.
"Lynnie wants to be on the side of hard working families, but she knows the Lib Dems no longer stand up for ordinary people trying to make ends meet in difficult times."
Ms Hinnigan, a youth worker, was the Lib Dems' spokeswoman for housing on Liverpool City Council.