Thousands of River Dee ladybirds invade Parkgate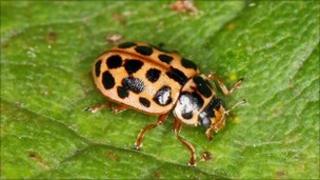 A Wirral village has become home to thousands of ladybirds as high tides on the River Dee force the insects inland.
The water ladybird species has appeared in unprecedented numbers at Parkgate.
Jeff Clarke, Cheshire county recorder for ladybirds said: "I've never come across anything like this before, I found nearly a thousand the other day."
Water ladybirds, which live on reeds in marshlands, are flatter, smaller, and have more spots than the ladybirds more commonly found in the area.
'Hundreds of thousands'
Parkgate was a port in the 18th Century, but the gradual silting up of the River Dee meant it became unusable and the village now looks out on to marshland.
The water ladybirds have been found along the Dee coast from Parkgate up to Thurstaston in the north of Wirral.
Mr Clarke is working with local schools to record the species and compile a ladybird map for Cheshire.
He said: "The most that has ever been recorded in the UK is around 200 in one sampling session; there are probably hundreds of thousands of ladybirds here."
"I think what's happened is the high tide has pushed them off the marsh because of salt water inundation and they've come to the coastal strip.
"If you go 30 or 40 metres inland then they start to peter out."