Rafa Benitez's wife Montse starts charitable foundation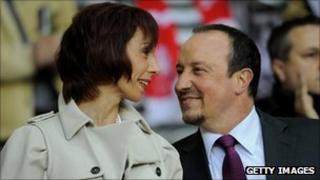 The creation of a charitable foundation by Montse Benitez, the wife of former Liverpool manager Rafa, was inspired by Merseyside's "sense of community", she has said.
The Montse Benitez Foundation will help raise money for local charities.
Mrs Benitez and her husband still live on Merseyside after Rafa Benitez left the football club in 2010.
The couple already support the Liverpool Women's Hospital and the Hillsborough Families Support Group.
The charitable foundation aims to raise funds for charities that have annual funding of less than £15,000.
It will organise events such as golf days, ladies lunches and race days to support the selected charities.
'Lucky in life'
Mrs Benitez, who will chair the foundation, said: "We're going to help people and charities on both sides of the Mersey, for example, the Wirral Autistic Society or the Wirral Riding for the Disabled, who have disabled children on horses jumping and doing dressage.
"Very few people know about these charities so it's very difficult for them to get funding.
"We're going to give them the publicity through Rafa's website and through the events we will run.
"I don't really like the limelight, I never did, but sometimes you are lucky in life.
"My husband is very lucky and a well known man in Liverpool and the country, he obviously has his football commitments so we decided that I would be the one in charge.
"It was his idea to call it the Montse Benitez Foundation."
'Warm and welcoming'
Mrs Benitez moved to England with her husband and their two daughters when Rafa was appointed Liverpool manager in 2004.
Despite Benitez having a short spell as manager of Inter Milan after leaving Liverpool, the couple kept their Wirral house as their main home.
Mrs Benitez said she quickly felt at home after moving to Merseyside.
"I think it's mainly because of the people here, they are so warm and so welcoming that it's very difficult to leave.
"When you are away you miss them.
"The first year we were here I remember the first time I went back to Spain. I was feeling a bit strange and weird, I was missing Liverpool.
"I have felt the sense of community in Liverpool and I know about the history of the city and how it, in some ways, has been the poor child of England.
"It's given the people of Liverpool that strong sense of fighting for each other.
"I've joined that community and will help in any way I can and that is the main reason for setting up the foundation."