Daniel Adamson: Bid for £2.8m lottery cash rejected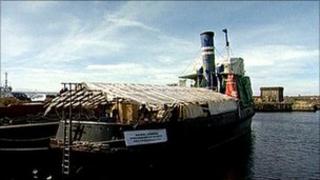 Volunteers trying to restore a former Mersey steam tender tug have had a £2.8m bid rejected by the Heritage Lottery Fund (HLF).
The HLF said it had "real concerns" over the costs of the restoration work.
Dan Cross, chairman of The Daniel Adamson Preservation Society (DAPS), said the society was "deeply disappointed" by the HLF's decision.
The society is seeking to restore the craft, which was built in Tranmere in 1903, as a working vessel.
Carole Souter, HLF chief executive, said: "Whilst we recognised Daniel Adamson as an important part of this country's maritime history, we had real concerns around the increased costs relating to the restoration work.
"This project, run by a number of highly-motivated volunteers, has great potential but as it currently stands we are not able to commit such a significant amount of lottery money to plans that have not been fully developed."
Mr Cross said: "This is a temporary setback. We will shortly restart discussions with HLF in early November to address its concerns and we remain confident that its support will eventually be forthcoming."
The vessel which is currently undergoing major restoration in Liverpool Docks had been badly vandalised in Ellesmere Port. It was bought for £1 in 2004.