John Paul Massey death: Police response to dog report 'inadequate'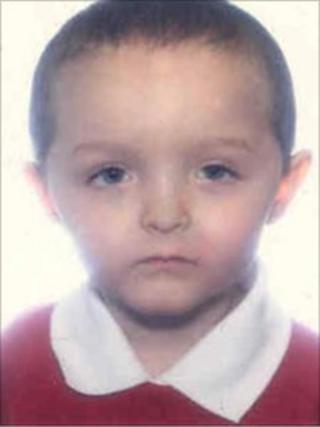 Police officers responded inadequately to reports that dangerous dogs were being bred at a house where a boy later died, the police watchdog has found.
John Paul Massey, four, was mauled to death by a pit bull terrier at his uncle's house in Liverpool in 2009.
Merseyside Police had been told that pit bull terriers were being bred at the house in Wavertree nine months earlier but did not pursue the report.
The force said it had implemented all of the watchdog's recommendations.
John Paul was savaged while being looked after by his grandmother Helen Foulkes at her home in Ash Grove in the early hours of 30 November 2009.
In June 2010 his uncle, Christian Foulkes, was jailed for four months for breeding and owning the dog, called Uno.
His grandmother was given a suspended sentence and banned from keeping dogs for life.
The Independent Police Complaints Commission (IPCC) started an investigation when it emerged Merseyside Police had received a report on 25 February 2009 that a tenant was breeding pit bull terrier dogs.
Officers decided it was not a police matter and a log into the report was closed.
'Unsatisfactory performance'
"Their response was inadequate," IPCC commissioner Naseem Malik said.
An acting sergeant, a PC and a member of police staff were given action plans due to "unsatisfactory performance", as a result of the investigation, she said.
The force has also reviewed and revised its dangerous dogs policy.
Ms Malik said an opportunity had been missed which "may have resulted in further investigation" but she said it was not due to "malice or any deliberate act", rather "poor decision making".
She said it would never be known whether John Paul would still be alive had a different decision been taken and it was easy to say that with hindsight.
She said John Paul was too young to have known the risk posed by the dog.
'Terrible burden'
"The tragedy is that others either were aware, or should have been aware, of the potential risk and they will have to live with that knowledge," she said.
"That will be a terrible burden, particularly for his family, and my thoughts and sympathies are with them."
Ch Supt John Young said: "Merseyside Police has a proactive approach to the issue of dangerous dogs.
"However, on this occasion appropriate action was not taken.
"All recommendations made by the IPCC have been implemented by the force.
"As a result of the incident two officers and one police staff member received management advice.
"The force remains committed to taking breeds deemed to be illegal under the Dangerous Dogs Act off the streets of Merseyside."