Royal Liverpool Hospital treats Libyan wounded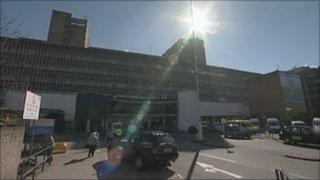 Three Libyans caught up in conflict in North Africa are receiving treatment for their wounds in Liverpool.
The three men, whose injuries include gun and shrapnel wounds, are being treated at the Royal Liverpool University Hospital.
Medical director Dr Peter Williams said the staff were "pleased to make our services available for these patients".
The men are in the UK following an agreement between the Department of Health and the Libyan Government.
The patients arrived at Liverpool's John Lennon Airport earlier in the week before being transferred to the Royal.
Dr Williams said the patients were being assessed by their clinical teams and their care will be led by orthopaedic surgeon Mr Badri Narayan who is described by the hospital as a "specialist in limb reconstruction".
He added: "As the patients do not speak English, we are providing support and pastoral care to them at what is a very difficult time for them."
Around 50 civilians wounded in the campaign against Colonel Gaddafi have been flown to the UK to be treated at hospitals across the country.
The cost of their treatment is being met by the Libyan Government.