New Liverpool Science Park building gets £7.6m go-ahead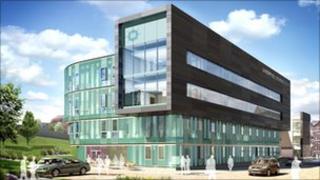 A third building at Liverpool Science Park has been given the go-ahead after its owners secured £7.6m of funding.
The park, which currently houses over 50 science companies, opened in 2006 besides the Metropolitan Cathedral.
Work on the new four-storey Innovation Centre, which will contain laboratories and offices, is due to start next year.
Half the cost will be met by the owners - Liverpool City Council and two city centre universities - and half by the European Regional Development Fund.
Alan Welby, from Mersey Partnership, said: "[It] is a significant building block in establishing the Liverpool city region as globally competitive centre for innovation and the knowledge economy.
"The world-class facilities will add a further dimension as we grow our economy and brings increased scale and opportunity."
The science park is owned by Liverpool City Council, Liverpool University and Liverpool John Moores University, who have taken out a £3.8m loan between them to cover half of the new building's cost.
The centre is expected to open by summer 2013.