Liverpool cuts: Public chance to probe council spending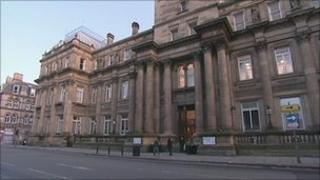 People from Liverpool are to quiz the city council about how it will save £50m over the next financial year.
A public question time will be held at Liverpool Town Hall on 27 October at 18:00 BST which will also be broadcast live on the council's website.
More than 200 local people will get a chance to question councillors about the budget.
People wishing to attend must book a place by calling 0151 233 3040 or email budget@liverpool.gov.uk by 20 October.
The discussion will be focused around options for the financial year 2012/13.
Financial shock
There will be a presentation on next year's budget, including a series of management options that the council will be asked to consider in the budget process.
Council Leader Joe Anderson said: "I don't think it has yet hit home how hard the cuts are going to affect services because we are only just starting to see the impact.
"Next year the pain is going to be even harder because we have already trimmed away the excess fat by slashing waste and cutting senior salaries and the management structure."
He added: "I hope the consultation will lead to a greater understanding of the difficulties we face."