Hillsborough files: Clegg backs full papers release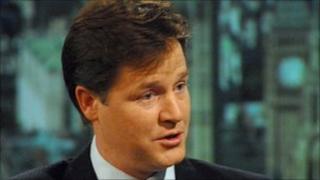 Deputy Prime Minister Nick Clegg has backed the full release of cabinet papers relating to the 1989 Hillsborough stadium disaster.
Mr Clegg said he supported the release of "all, unredacted and uncensored government documents", over the tragedy in which 96 Liverpool FC fans died.
He was responding to a question from Labour Barnsley Central MP Dan Jarvis.
"It is very important we get to see all the relevant papers," the deputy prime minister told the Commons.
MPs are to debate an e-petition on 17 October which demands the full release of documents relating to the 1989 Hillsborough Stadium disaster.
The petition, which was backed by Liverpool Manager Kenny Dalglish, will be debated because it gathered the support of more than 100,000 people.
It followed a ruling by Information Commissioner Christopher Graham that the papers should be published.
Ninety-five Liverpool fans died in the disaster at the FA cup semi-final tie against Nottingham Forest at Sheffield Wednesday's Hillsborough stadium on 15 April, 1989. The 96th victim died two years later after doctors obtained a court ruling to withdraw tube feeding.