Merseytravel: Councillor's credit card apology to chair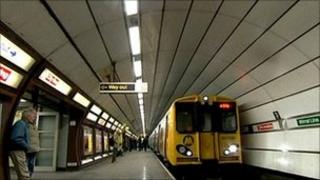 A councillor who accused Merseytravel's chairman of misusing a credit card belonging to the body has withdrawn his allegation.
Liberal Democrat councillor Andrew Makinson said he apologised to Labour councillor Mark Dowd and accepted he had not acted improperly.
Mr Makinson's apology follows legal action from Mr Dowd.
Mr Makinson originally criticised Mr Dowd for claiming Merseytravel expenses to attend several party conferences.
The Lib Dem councillor said he had published two press releases earlier this year claiming Mr Dowd used the Merseytravel credit card for "lavish" expenses and compared his actions to the expenses scandals in Parliament.
"I accept that prior to publication and in response to my legitimate questions on this topic I had been informed that Councillor Dowd had repaid all credit card expenditure in accordance with a pre-existing arrangement," he said.
Mr Makinson added: "I accept that Councillor Dowd has not acted in an improper way in using his Merseytravel credit card and I apologise unreservedly to both Councillor Dowd and his family for any upset and distress caused."
Merseytravel and Mr Dowd said they were pleased that Mr Makinson had apologised "unreservedly for releasing unwarranted, harmful and upsetting comments to the press".
Merseytravel said in a statement that Mr Makinson had "released information to the media despite knowing that the contents of his press release were deliberately inaccurate".
The statement added: "He has conceded that he had prior knowledge of the fact his releases were misleading, yet still released them to local journalists."