Cammell Laird bids for nuclear power contract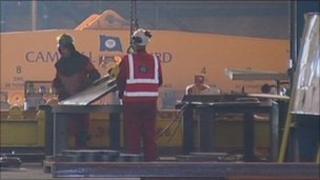 Cammell Laird is to bid for work building the UK's next generation of nuclear power plants.
The Birkenhead shipbuilder has joined forces with Italian company Ansaldo Nucleare and Warrington-based Nuvia to bid for the contract.
The partners propose building huge modules and components for the plants in a weather-protected construction hall in Birkenhead.
They said that way they could build larger units than previously possible.
If successful, the contract would secure hundreds of jobs in the North West.
The bidding process will begin in the new year and work could begin 18 months later.
The partners said the method would reduce construction costs and improve quality and safety.
John Syvret, CEO of Cammell Laird, said teaming up with Ansaldo Nucleare strengthened the initial deal struck between Nuvia and Cammell Laird last year to enter the nuclear module market.
Keith Collett, CEO of Nuvia UK, added: "The addition of Ansaldo Nucleare to the already impressive partnership of Nuvia and Cammell Laird creates a significant proposition to the nuclear new build market, increasing the spectrum of capability, knowledge and experience from one collaborative source.
"This association provides a real opportunity for Nuvia, Ansaldo Nucleare and Cammell Laird to drive innovation and enhance the technical engineering skills offered to the UK and international market."