Liverpool's historic Central Hall reopens as The Dome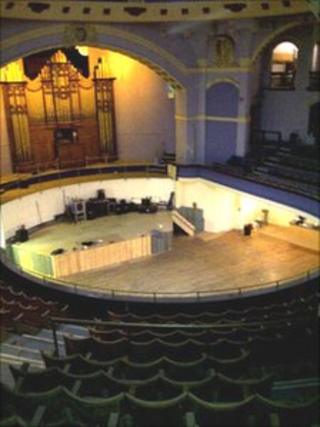 A new entertainment venue is set to open in one of Liverpool's historic buildings.
The Dome, a 1,200-seat space, is due to open in November inside Central Hall on Renshaw Street.
The Grade II listed building originally opened as a Methodist church in 1905 and still features the 100-year-old pipe organ.
Director Sean Finney said he hoped to host a mixture of shows including bands, theatre and comedy.
He said: "This is a five-year dream come true for me, it was a crying shame to see this stunning venue decaying and not put to good use and I was determined to do something about it.
"With Central Village coming to life between Bold Street and Renshaw Street, I want The Dome to be a big part of the regeneration of this area too.
"There is a gap for a venue of this size in the city centre."
The building has been through many stages of closure and reopening and is now known as the home to shopping centre Quiggins, which relocated to the Grand Central building in 2006.
It was originally opened as The Central Hall of the Liverpool Methodist Mission in December 1905 and in 1908 it became The New Century Picture Hall, one of Liverpool's first cinemas.
Between 1933 and 39 the Liverpool Philharmonic Society played at Central Hall after the original Philharmonic Hall was destroyed in a fire.
In the 1970s and 1980s the hall was used for Ford car manufacturer workers' strike meetings.
The new venue has 500 fixed seats and room for up to 700 standing.