Liverpool's tribute to Far East prisoners of war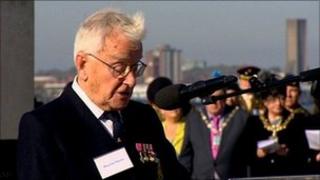 Far East prisoners of war during World War II have been honoured with a new memorial at Liverpool Pier Head.
Many were brought back to the city on release in 1945 and the survivors were helped and supported by the Liverpool School of Tropical Medicine.
Camp survivor Maurice Naylor unveiled the memorial in a ceremony attended by two others and 11 widows.
Thousands of service personnel left from Liverpool which was the main port they returned to in the autumn of 1945.
"This is a memorial to those who, having survived, then had to contend with the long-term physical, mental and emotional effects," said Mr Naylor.
Mr Naylor, was captured in 1942 in Singapore and spent three and a half years as a prisoner of war, working on the infamous Burma Railway that claimed the lives of many prisoners.
More than 350 guests attended the ceremony.