Cheshire police raids target drug dealing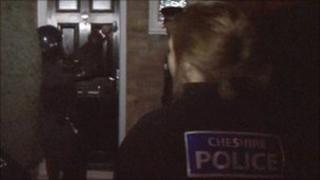 Eight people have been arrested after a series of early morning raids in the North West.
Police searched four addresses in Ellesmere Port, as well as properties in Liverpool, Widnes, Rochdale and Shropshire on Tuesday.
Four men from Ellesmere Port and four other men from the North West were arrested for conspiracy to supply class A drugs.
Det Supt Geraint Jones, of Cheshire Police, said the raids were a success.
"This operation was the culmination of a lengthy investigation and shows our continued commitment to tackling drug crime in Cheshire," he said.
Inspector Peter Case, from Ellesmere Port Neighbourhood Policing Team, said: "Drug dealing has a significant impact on people's lives, causing intimidation and misery for residents living in affected areas.
"We listen to the concerns of our residents and understand that drug distribution and use is a blight on our communities and is more often than not a trigger for those involved go on to commit other types of crime."