Cheshire workers told 'accept new terms or face sack'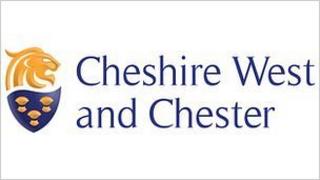 Nine thousand council workers in Cheshire have been told they must sign up to new terms or face the sack.
The Conservative-led Cheshire West and Chester Council said the contracts, which must be signed by 11 November, could save around £3.9m a year.
A spokesman said the measures create a fair deal across the authority, which was created from two councils in 2009.
Unison's Ray McHale said his members would not "accept cuts that take away benefits won over 75 years".
The changes to non-teaching staff contracts, which workers must accept or "face termination of contract", have been agreed by the council's staffing committee.
They cover a wide range of payments and benefits, including car lease schemes, mileage payments, overtime rates and shift premiums.
At the three hour meeting, the committee also allocated £0.5m to cover one-off payments to staff earning less than £17,000 a year.
The council said these workers will lose around 5% of their income through changes in shift payment agreements.
Alan McKie, the staffing committee chairman, said: "Quite frankly, no member of the committee wanted to be in the position of having to make these decisions.
"However, because of the national financial situation, we had no choice.
"We had to ensure the continuing stability of the council and its workforce."
'Last minute bribe'
Unison claims the cuts will hit those who already among the lowest paid, singling out women care workers as being particularly badly affected.
A Unison spokesman said: "A typical worker on a 30-hour contract will see their pay of £15,500 per year cut by £1,800 - a 13% pay cut." He branded the one-off payments as "a last-minute bribe".
Mr McHale, West Cheshire Unison's Assistant Branch Secretary, said staff had already agreed to "complete harmonization of terms and conditions, eliminating many benefits".
"Union members will not be bullied, brow-beaten or bribed with their own money to accept cuts," he said.
"Our members are already in the middle of a three-year pay freeze and are seeing our pension attacked while our contributions increase by 50%.
"Now the council wants to steal £3.9m per year from our pay.
"They are prepared to use the excuse of the financial crisis to grind their staff into the dust - especially the lowest paid."
The four major council unions - Unison, GMB, Unite and Ucatt - will now ballot members on whether to take industrial action over the new contracts.