Liverpool City Council bid to save £102m before 2015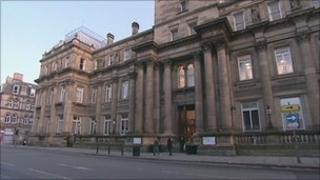 Councillors in Liverpool are meeting to discuss how to save almost £102m over the next three years.
The savings are on top of the £91m cuts that had to be made during 2011-12 following the Spending Review.
Council leader Joe Anderson said the council had to make some difficult choices but that it would try to protect "life and limb" services.
Friday's meeting will be followed by a public "question time" over the issue at Liverpool Town Hall on 27 October.
The council has to find savings of £50m for 2012-13, and estimates it will need to find a further £18.5m in 2013-14 and £33.3m in 2014-15.
It said it would take into account what was most important for residents and make it clear how people would be able to engage and have their say on the decisions.
The council said it hoped that a large part of the savings could be made by doing things such as changing the organisation to make it more efficient, improving income and procuring at lower prices.
Mr Anderson said: "We are going to have make some very difficult and tough choices over which services we can continue to provide, but are committed to doing it in a way that protects life and limb services which people value the most.
"Rather than salami slicing services each year to make the cuts, we want to take a longer-term view which enables us to look ahead and envisage where we will be in 2015.
"But people should be under no illusion that this is not going to be without pain and I don't think it has yet hit home how hard the cuts are going to affect services, because residents are just starting to see the impact of cuts we've already made."
He added: "We are determined to be as open and honest as we can about the process, because it is no exaggeration to say that the decisions we make will affect every single resident in one way or another."