BBC Give An Hour campaign in Merseyside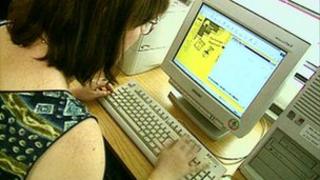 Skills trainers say job seekers in Liverpool who do not use the internet will find it harder to get a job.
Around 100,000 people in Liverpool are currently offline, which the Trades Union Congress (TUC) say is putting people at a disadvantage.
Laura Robertson-Collins, from the TUC, said: "A lot of jobs are only online so people are missing out on job and training opportunities."
The BBC's Give An Hour campaign aims to help people use the internet.
The project is asking people to offer an hour of their time to help others learn about computers.
Ms Robertson-Collins said: "Those who are digitally excluded are more financially and socially excluded.
"As more and more people use the internet, those who aren't able to get online are getting left behind."
Avis Hill, from Windmill Hill estate in Runcorn, learned to use computers after losing her job.
The 54-year-old grandmother retrained at the local library.
She said: "I was petrified at first, I was scared of breaking it.
"Years ago you needed a phone to get by, now it's a computer."
Mrs Hill studied for a computer qualification and learned to write letters using a word processor which helped her to get a new job.
She said: "Without it I'd be sitting here wondering what to do. It opens up new worlds."
Give An Hour runs across the BBC, Monday, 24 - Sunday, 30 October, 2011.