RMS Mauretania bell to be auctioned in London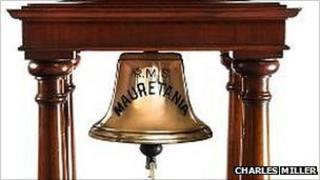 A century-old brass bell from one of the early 20th Century's fastest liners is to go on sale in London.
The Edwardian instrument, taken from the RMS Mauretania, will be auctioned on Wednesday.
After being taken off the ship, it was in the Cunard Building on Liverpool's Pier Head for three decades.
It is the only bell from the ship, which was built on the Tyne at Wallsend, not in a museum and is valued at £10,000.
The bell is one of three made for the 1906 launched liner and was on the ship for 30 years.
When it was broken up in 1936, the bell was removed to the Liverpool offices of shipping company Cunard.
It stood in the lobby of the offices until the late 1960s, when the company moved to Southampton.
The Mauretania, named after an ancient Roman province, broke the record for the fastest transatlantic crossing in 1907.
Sailing from its home port of Liverpool, it held the title for 22 years.
The bell cabinet has the name Lusitania inscribed on the underside, suggesting it was originally meant for the Mauretania's ill-fated sister ship which was sunk by torpedo attack in 1915.
It is being auctioned by Charles Miller.