West Kirby doctors' surgery locked in rent row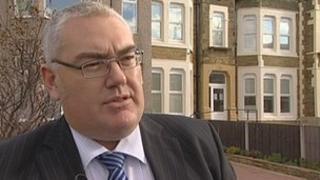 Staff and patients have been locked out of a Wirral doctors' surgery in a row over unpaid rent.
Sandstone Medical Centre in West Kirby was closed on Monday after landlord Wayne Roberts changed the locks.
He said rent on the Banks Road property had not been paid in months - but GPs say a sharp rent rise is unfair.
NHS Wirral has advised patients who need to see a doctor urgently to contact an out-of-hours GP using the usual practice number.
It said an alternative location should be open by the end of the week.
A statement on its website said: "Patients and residents of the area can be assured that services will continue and arrangements are being made for this to happen as effectively as possible to minimise disruption to patients.
"Currently, all medical equipment, IT equipment and medical records are inaccessible."
'Peaceful repossession'
It said any routine or follow-up appointments would be rescheduled for next week and patients who needed transport either to an alternative premises or back home would be able to use a taxi provided by the practice.
Staff were outside the surgery on Monday, offering information to concerned patients and directing them elsewhere.
They claim the landlord wanted them to sign a new tenancy agreement with the rent more than twice what they previously paid.
Glen Coleman, from NHS Wirral said: "His actions are totally unreasonable.
"There is no need to go down this route and it is impacting on the patients on the practice and how the practice can deliver its services."
A statement made through Mr Roberts' solicitors, Devine and Co, said: "The practice has not made any payment in respect of rent and my client has peacefully taken back possession of his property with the police in attendance.
"My client remains prepared to enter into an agreement and has great sympathy with any patients affected."