Gang jailed for £4bn cocaine smuggling plot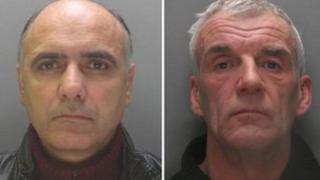 Drug dealers from Liverpool and London who plotted to flood the UK with £4bn of cocaine have been jailed.
The gang was planning to smuggle the drugs from South America by sea, hidden inside tins of fish and wooden pallets.
Mehmet Baybasin, 48, of Edgware, London, was found guilty, at Liverpool Crown Court, of conspiracy to import cocaine and was jailed for 30 years.
Paul Taylor, 55, of the Eldonian Village, Liverpool, admitted the same offence and was jailed for 22 years.
Ten other gang members received sentences of nine to 23 years, while 12 more accomplices are due to be sentenced later.
The court was told that if all the cocaine had made it to the streets of the UK after being cut with other substances, it could have been worth around £4bn.
Out 24 charged, Baybasin, of Fairfield Crescent, was "at the top of the pyramid", the court was told.
Judge David Aubrey QC said the offenders worked in an "evil and pernicious trade", indicative of their "desire for the good life".
Cocaine was going to be bought at a "wholesale price" then sold to other dealers who would dilute it and sell it on, prosecutors said.
The gang was detained after an operation by the Serious and Organised Crime Agency (Soca), who worked closely with Merseyside Police.
Undercover officers used mounted extensive surveillance and bugging operations in the investigation.
Steve Baldwin, head of investigations in the North West for Soca, said: "This was a network with a very clear focus.
"Baybasin, Taylor and their cronies lived and breathed drug trafficking. It's all they ever talked about and, while they talked, Soca listened and watched.
"Bringing down the entire network was only possible because of a tremendous international partnership.
"Merseyside Police, the PSNI (Police Service of Northern Ireland), partners in South and Central America, and the Crown Prosecution Service all played a crucial part in achieving this excellent result."