RMS Mauretania bell fails to sell at auction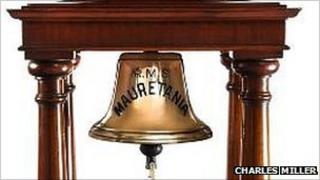 A brass bell from the liner RMS Mauretania has failed to sell at an auction in London.
The floor-standing Edwardian bell was one of three made for the 1906 launched liner and was on the ship for 30 years.
When it was removed it was displayed in the Cunard Building on Liverpool's Pier Head for three decades.
Auctioneer Charles Miller said it was expected to fetch up to £10,000, but the size of the instrument may have put some bidders off.
He said: "It will go back to the owner who is a liner collector. It's worth holding out for as on the right day it would fetch a lot of money.
"It is a fascinating piece and we had a lot of academic interest from enthusiasts but it is a large object so maybe the size of the unit put people off."
The bell will now go back to the owner, who is a liner collector, he added.
The Mauretania, named after an ancient Roman province, broke the record for the fastest transatlantic crossing in 1907.
Sailing from its home port of Liverpool, it held the title for 22 years.
The bell cabinet has the name Lusitania inscribed on the underside, suggesting it was originally meant for the Mauretania's ill-fated sister ship which was sunk by torpedo attack in 1915.