Merseyside Police make 49 'mischief night' arrests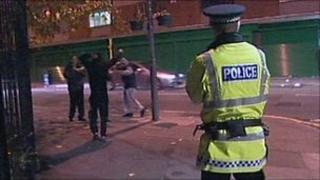 Forty-nine people have been arrested on Merseyside in connection with incidents on the local "mischief night".
Merseyside Police mounted a special operation on 30 October, the night which has seen people causing disorder in the past.
Officers said those arrested were held on suspicion of criminal damage and public order offences.
Despite the arrests, Supt Claire Richards said there had been less trouble than previous years.
She said it was "very encouraging to see a fall in the number of incidents".
Merseyside Police planned the operation with the other emergency services and local councils. Officers reported a 7% reduction in reports of anti-social behaviour.
Ms Richards said a combination of the larger police presence and more things being put on for youths to do had helped reduce the number of crimes.
"It would appear that the vast majority of young people took advantage of the numerous activities that were on offer to them across Merseyside and enjoyed the evening safely and responsibly," she said.
Mischief night has been traditionally celebrated by young people playing pranks on their neighbours and is celebrated on the night before Halloween on Merseyside.
Elsewhere in the country, the tradition is celebrated on 4 November, the night before Bonfire Night.