Historic lifeboat returns to Liverpool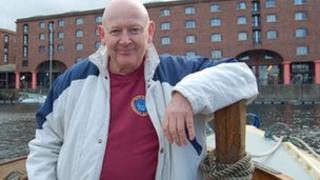 One of the last surviving Liverpool class lifeboats has returned to the city.
The William Cantrell Ashley has been restored by the Hoylake Lifeboat Museum and is now moored in the Albert Dock.
The 62-year-old twin engine boat will be open to the public as well as being used for training sea cadets.
The Liverpool class lifeboat originated towards the end of the 19th Century and became the backbone of the RNLI from the 1930s up until the 1980s.
Hoylake Lifeboat Museum Chairman John Parr said: "This boat is probably the type of lifeboat that many people in my generation, born in the 50s and 60s, would have been familiar with.
"It has a cuddy, a curved cockpit on top of the boat, and is one of the last surviving Liverpool lifeboats."
The William Cantrell Ashley was built in 1949 in the Isle of Wight and served in Devon until the 1960s.
"Liverpool is unique in that it was the only place to give its name to a class of lifeboat," Mr Parr said.
"Traditionally lifeboats were named after their designers or rivers, so what better place to have a Liverpool class lifeboat built in the heart of the city that gave it its name."
The 35ft Liverpool class boats were renowned for their stable design and all remaining boats are logged on a national register.
"They are of national importance, rather like listed buildings," Mr Parr continued.
"These boats became the backbone of the RNLI for 60 to 70 years."