Liverpool roads 20mph limit zones gets go ahead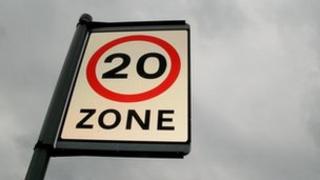 Plans for a 20mph speed limit on the majority of Liverpool roads have been approved by the city council's cabinet.
The limit will be introduced across 70% of Liverpool's residential roads over the next four years.
Malcolm Kennedy, cabinet member for regeneration and transport, said: "It is about safety and reducing the numbers of collisions."
A public consultation on the proposals, which will cover 317 miles (587km) of roads will be held later in the year.
Mr Kennedy said: "We don't have resources to put speed bumps in every street so we are looking to establish zones and putting up signs. It is about changing peoples' habits.
"We will be consulting street by street."
Currently 31% of the city's roads have a 20mph limit.
'Rat runs'
The council has based its plans on the creation of 20 mph zones in Warrington which resulted in a 25% reduction in the number of road traffic accidents.
But Director of the Road Users Association, Miles Watkins, said the main road networks need more investment to stop people taking short cuts through residential streets.
He said: "Anything that makes roads safer is a good idea but a blanket reduction is not necessary.
"Under-investment in proper road networks is the biggest issue and without that people will continue to use residential streets as a rat runs.
"We need a better vision for roads for all users including motorists, pedestrians and cyclists."
The proposals are supported by Merseyside Police and Liverpool Primary Care Trust.
Roads which would be exempt from becoming 20mph would include roads with existing speed limits of 40mph or more, most A and B roads, and major routes which are not primarily residential.