MBNA cuts 150 more jobs in Chester and creates 1,000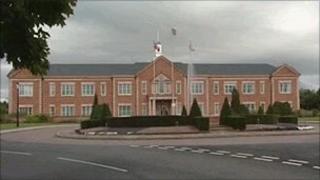 Up to 1,000 new jobs are to be created at Bank of America's MBNA site in Chester with the creation of a new technology centre.
The bank has also announced the loss of 150 jobs in its Europe Card department in the city, which it said it hoped to achieve through voluntary redundancies.
In October, the bank announced it would be shedding 400 posts after the firm decided to sell its UK card business.
Work on the new technology centre is expected to be completed by 2013.
'Mixed news'
The bank, which has 3,500 employees in Chester, said the centre would support its global banking and markets, and wealth management businesses across Europe, the Middle East and Africa.
Bank of America's Europe Card executive Ian O'Doherty said: "The proposed reductions, while difficult, are vital in the context of the environment in which we are operating and as we prepare our European consumer credit card business for the best possible outcome.
"The announcement of Bank of America's intention to create a new technology and operations centre in Chester is very welcome news. It will ensure that we remain a large employer in the region and a key contributor to the local community."
Chester Conservative MP Stephen Mosley said: "The latest news is mixed. It is sad to see the MBNA credit card business losing more jobs, however Bank of America's decision to locate its European technology and operations centre in Chester is excellent news meaning many new jobs in the city.
"The new jobs are the type of professional and technical roles that take advantage of our highly educated workforce and good communication links and are the exactly the types of jobs we need to keep attracting to Chester."