More than 2,000 homes without gas in Wirral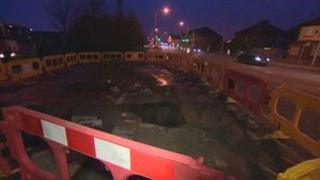 Engineers are working to restore gas to more than 2,000 properties in Wirral after a pipe was damaged by a burst water main.
A total of 2,066 homes across 70 streets in Moreton and Leasowe are still affected by the disruption.
The gas main, at the junction of Danger Lane and Hoylake Road, Moreton, was repaired on Friday and the water now needs to be pumped from the pipe.
About 80 National Grid engineers were visiting properties on Saturday.
A National Grid spokeswoman said it was working to identify those properties affected and disconnect their gas so the water could be removed from the pipe.
'Unusual circumstances'
Engineers will need to visit every affected property in each area to ensure the gas supply is turned off at the meter.
Residents have been urged to ensure someone is at home so an engineer can visit.
Once all the water has been removed from the network and gas is back in the mains, a second visit will be made to turn on the supply to each property.
National Grid spokeswoman Sarah Wilcox said: "We will be working throughout the weekend to get as many people back on as possible.
"These are very rare and unusual occurrences and there will be an investigation into how this happened."
Alternative heating and cooking facilities are being provided at Leasowe Community Centre in Twickenham Drive.
Ms Wilcox said: "Vulnerable people, elderly people, disabled people and those who've got a member of the family who might be very ill can pick up electric heaters and hot plates.
"Our priority at the moment is to try and get everybody back on gas as soon as possible."