Red Rum trainer Ginger McCain remembered in Liverpool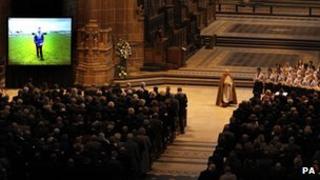 Hundreds of people, including famous names from racing, have attended a memorial service for four-time Grand National winning trainer Ginger McCain.
Richard Pitman, Mick Fitzgerald and Sir Bobby Charlton were among those at the service in Liverpool Cathedral.
McCain, who died in September aged 80, won the National with Red Rum three times in the 1970s and for a fourth time with Amberleigh House in 2004.
The used car salesman from Southport began training horses in the 1960s.
He had also worked as a taxi driver and it was for one of his passengers, local businessman Noel Le Mare, that he bought Red Rum for £7,000.
The horse was trained on the sands of Southport beach and, as well as three wins, recorded two second places in the Grand National.
'A showman'
The memorial service opened with the theme music from the 1983 film Champions, which is also used for the BBC's Grand National coverage.
Charles Barnett, chief executive of Ascot, who was head of Aintree for many years, gave one of the readings.
Jockey Mick Fitzgerald, speaking before the service, said: "The nickname 'Mr Aintree' is exactly right, he loved the race, he loved Aintree racecourse and he just loved what the Grand National brought to everybody.
"He was very proud of the fact that he won the race four times.
"I shall never forget him when his son Donald won the race last year with Ballabriggs. He was walking round and said to everybody 'he didn't do too badly did he, my boy?'
"He was very much a family man and I think he was very proud of what his family and he himself had achieved.
"From being a used car salesman he trained one of the highest profile racehorse of my time in Red Rum.
"For anybody who didn't know much about racing and you asked them to name one racehorse, it would nearly always be Red Rum.
"He was a showman, he was a man who loved the camera, and who loved being interviewed."
'Awful long time'
McCain's son Donald, who is also a successful trainer, said he worried initially that Liverpool Cathedral might have been too large a venue for the service.
"When they said they wanted to come here, the first thing I said was 'Will enough people turn up?"' he said.
"They told me off for being stupid.
"It's lovely to see all these people here, some we haven't seen for an awful long time - his old staff, from the early days in Southport, who we've not seen since the move to Cholmondeley in Cheshire.
"He's my dad, and obviously you want people to think fondly of him.
"I think it proves today what people thought of him."