Flowers left by strangers for Caroline Elliott in Sefton Park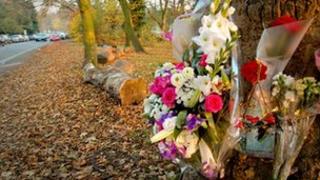 In the 15 years since Caroline Elliott was killed by a hit-and-run driver, flowers and tributes have been left by the tree where the incident took place.
Many have been from family and friends, but some have been left by total strangers moved to pay tribute to her.
The 22-year-old was jogging with a friend in Liverpool's Sefton Park when they were struck by a stolen car on 14 November 1996.
The medical student was taken to the Royal Liverpool Hospital, where she died the next day.
Her friend, Sarah Edenbrow, who was also studying medicine at the University of Liverpool, suffered multiple injuries but has since made a full recovery.
Caroline's parents, Ann and Mike Elliott, had been trying to trace those who have left tributes to her, and finally met some of them at a memorial service held at the scene on Sunday.
The couple, who live near St Albans in Hertfordshire, travelled to Liverpool this weekend to commemorate the 15th anniversary of their daughter's death.
They had used the local media to invite anyone who had remembered their daughter to join them at the memorial.
Mrs Elliott said: "As we were standing round the tree, there must have been at least five or six people standing round and they said every time they jogged past the tree they thought of her.
"Many of her friends were there - most from Liverpool managed to make it which was lovely - but for complete strangers to come too was very moving."
She said several joggers stopped to introduce themselves and pay tribute to their daughter during the service.
One man had run marathons in Berlin and New York, wearing a t-shirt bearing Caroline's name.
Another couple had come on behalf of their son, who was the first police officer on the scene on the night that she died.
Caroline's mother said he died from cancer three years later, on exactly the same date.
"His parents said they wanted to come and speak to us," she said. "Caroline was always on his mind ever since. They felt they had to come and speak to us on his behalf."
Ms Edenbrow was also at the scene of the crash to pay tribute to her friend.
Mrs Elliott added: "We are just so touched to think that after 15 years, people think of her even if they didn't meet her.
'So touched'
"What moved us so much is that we come up every year about the time of her death and we always go to the tree and put flowers on the tree ourselves, and there has always been flowers there."
She added: "This year, seeing as it is the 15th anniversary of her death we thought it would really be lovely to meet up with some of these kind people and put a face to their messages."
Mrs Elliott said it helped to know that her daughter had struck a chord with so many people.
"She was really very beautiful, she was slim with long blonde hair and had been approached to be a model," she said.
"I don't know whether that tugged at people's heart strings, it just did, people just seemed to remember. It helps us."
She was hit at about 17:30 GMT. Minutes later, a car was abandoned and set on fire at a tower block nearby.
Police believe it had been used as a getaway vehicle after a robbery in Tesco at Allerton.
The man believed to have been driving the car at the time of the crash, Lee Davies, died five days after the crash in a hit-and-run incident in Shropshire.