Royal Liverpool University Hospital drink spike test offered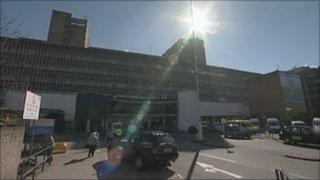 A Merseyside hospital is offering patients testing strips to check if their drink has been spiked.
The Royal Liverpool University Hospital will offer the strips to patients attending emergency and sexual health departments.
When dipped in drinks the testers can detect drugs such as ketamine, GHB, cocaine and amphetamines.
The strips contain two square testing pads which change colour when they come into contact with one of the drugs.
Trish Armstrong-Child, the hospital's Deputy Director of Operations, said: "We always encourage people to drink alcohol sensibly but we do see high numbers of patients with alcohol related conditions or injuries.
"It is important that people are aware of drink spiking.
"We hope greater awareness of these issues will help prevent people from ending their nights out in hospital."
The strips are provided by cosmetic company 2 Love My Lips which is working with the Roofie Foundation to promote awareness of drink spiking and drug rape.