Finding Christian faith in prison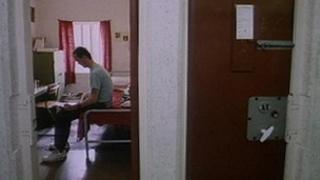 Tony has been in and out of prison throughout his life.
From youth offenders institutions to adult prison, a chaotic existence fuelled by drink and drugs resulted in him living on the street.
He said: "I was going through the young offender system, up to the adult system right up until I was about 30 years of age.
"My life consisted of getting out of prison, committing crime, using Class A drugs, heroin crack, drinking alcohol to excess.
"I felt hopeless and I just couldn't cope with everyday life. When I was living on the streets prison was actually a good place to be - a bit of a rest."
Tony was introduced to religion after meeting another offender who had discovered faith while in prison.
He said: "I met a guy from Wales who had become a Christian in prison, and he brought me over to the chaplain to a discovery group.
"I met a member of the prison fellowship there, which was Chris and he helped me in my walk with God.
"He was coming in in his own time. Giving his time up, not getting paid. You know he'd been at work all day and he's turning up and he's making the tea for you.
Chris is a volunteer with the Prison Fellowship who work with prisoners to help to break the cycle of reoffending.
"The last time I was in prison I came to the Lord," he continued.
"You know there is something missing inside and you look and you're searching, well I found Christ.
"In my cell one night I got on my knees and I asked the Lord into my life and I got this overwhelming sense of peace which at the time I didn't know what it was.
"In prison it is noisy at night, banging doors and shouting out of windows, but I couldn't hear a thing and I know now that was the Holy Spirit inside me. And from then my life has flourished."
Tony became part of the prison prayer group and Chris asked the other Prison Fellowship groups to pray for him too.
"You gather strength from people giving their time and knowing that there are people praying for you," Tony added.
"These people have never met you and they don't know what you are in prison for but they love you and they care what happens to you.
"For me it was overwhelming that people who didn't know me wanted the best for me.
"In the kind of life that I grew up in it was all hatred and back stabbing but these people were showing me love, the love of Christ and I believed that that broke all the barriers down for me.
"That is where it got me today."
Tony is now out of prison and is an active member of the Christian community.