Sefton athlete's 'unbelievable' Olympic torch honour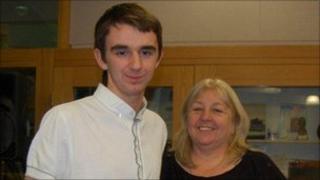 A 17-year-old from Merseyside with cerebral palsy has been chosen to carry the Olympic Torch during the flame's relay next year.
Owen Fennell-Rutherford from Sefton, who hopes to compete in the Paralympics one day, said it was "unbelievable".
His mother Jan said: "I'm absolutely ecstatic, I'm whooping all the time."
Her partially sighted son, who suffered a brain haemorrhage and stroke at the age of nine, was nominated to carry the torch by a cousin.
During his rehabilitation, Owen was described as a "walking miracle" by hospital staff who treated him.
He went on to receive an Outstanding Achievement Award from his school due to his strong performance in GCSE examinations.
Specialising in the 100m and 200m sprints, Owen went on to compete in national disability competitions, and devoted his spare time to working with disabled children at his local sports centre.
His mother added: "Owen's not fazed by it, he said it was really good [to be chosen] and that he was really pleased."