Loved Ones plan debut folk album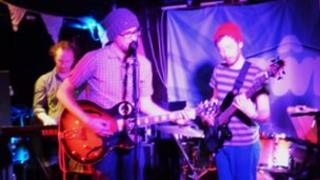 Wirral based four-piece Loved Ones has been combining folk, electronic and "odd ambient hip hop" since June 2011.
Inspired by their home town West Kirby, the group released its debut single Are You Hiding Out In Hell? on 21 November and will release a debut album in 2012.
Nik Glover, Richard Hurst, James Freeman and Ben Shooter said that their music is inspired by places rather than people.
Singer Nick Glover said: "The music we play is kind of folktronica. It is like folk music mixed with old ambient hip hop, and it is influenced by West Kirby quite a lot."
"I moved to West Kirby about two years ago and it's the most beautiful place in the world.
"It is really hard not to just write a whole album about the beaches and stuff there.
"It is hard not to be inspired by the Welsh when, living on the Wirral Peninsula, North Wales is what we see every day."
The band were tipped for success by NME after performances at Binnacle Festival in London, Swn Festival in Cardiff and at Liverpool Music Week.