Liverpool's Epstein Theatre to open as live music venue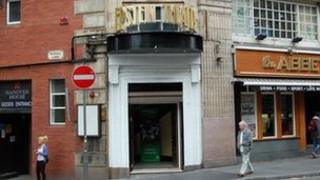 A Liverpool theatre, renamed after Beatle's manager Brian Epstein, is to open as a live music venue.
The Epstein theatre, previously called The Neptune, has undergone a £1m refurbishment, completed in July.
The venue will be operated by Liverpool Sound City, which will also use the venue to showcase pop culture in art and drama productions.
Brian Epstein, who died in 1967, managed the Beatles from their days in the Cavern club.
The theatre is expected to open in early 2012.
'Music-loving city'
The 385-seat Grade II-listed venue opened as Crane's Music Hall in 1911, it later became known as The Neptune and closed for refurbishment in 2005.
The refurbishment was funded by £750,000 from Liverpool City Council and £250,000 from Hanover Estate Management Ltd.
The new operator, which won the right to run the venue through a bidding process, said it would aim to allow the theatre to be used by community groups across the city.
Dave Pichilingi, chief executive of Sound City, said: "We plan to turn it into a space that will be a gemstone in the cultural offer for Liverpool.
"Such an amazing building needs to be used and seen by an international and local audience.
"We believe our vision for the Epstein will put our city firmly on the map and show Liverpool as a 21st-Century pop culture city.
Wendy Simon, Liverpool City Council cabinet member for culture and tourism, said: "Sound City's vision was inspiring and will make the venue a hub of excitement and creativity which is sure to be embraced by this music-loving city.
"Liverpool is famed worldwide for its musical offer, and this new venture will provide the perfect platform for the city's up-and-coming artists."