Couple say goodbye to 40th guide dog puppy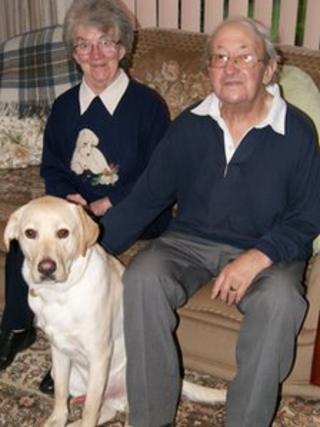 They say a dog is for life - but few people have as many as 40 dogs in their lifetime.
Wirral couple Tony and Ruth Warrington started walking puppies for Guide Dogs for the Blind in 1979, and now, more than 30 years later, are about to say goodbye to their last one.
Guide dog Bobby came to live with them just under a year ago, when he was about six weeks old.
He is about to leave their West Kirby home for a period of intense training before he is rehomed with a new owner in London.
"He's our 40th," Mr Warrington said. "We were going to stop at the last one, but then a friend said you can't stop at 39, you've got to go for 40."
The couple started their puppy-walking career when a friend who already worked with guide dogs suggested they try walking a puppy of their own.
"We had our own dog, but we knew a puppy walker and they said why don't you try it, and we did," said Mr Warrington.
"They come to us at just over six weeks, but they're not happy being taken away from their siblings and their mum, so you're going to lose a couple of nights' sleep.
"I always say, if you can get through the first week and the last week, you'll be OK."
Mr and Mrs Warrington share their home with two dogs - aside from Bobby, they also have Tara, a retired guide dog, who at 15 had to be rehomed when she became too old to work.
On the walls of their home are rows of framed photographs of every dog they have ever had, most of them sitting proudly next to their new owners - some of whom have gone on to become their friends.
The couple's final dog Bobby is due to leave on Tuesday, when a representative from Guide Dogs for the Blind will come to their house and pick him up.
Bobby will go on to a training centre where he will begin learning how to guide an owner.
Mr Warrington said: "We've been lucky, we've known many of the new owners. We became very good friends with one. Most of them we have had contact with.
"It is up to them to contact us if they want to, and most of them do. It's entirely up to the owner, which I think is the right way of doing it."
Puppies are placed with their walkers when they are between six and eight weeks old, and they look after them until about the time of their first birthday.
The puppies then go on to complete their basic guide dog training at a regional centre, and if they pass they then progress to advanced level training.
Finally they are placed with a guide dog owner, who will train the dog further as it lives in their home.
Sally Timms, puppy walking supervisor for the Merseyside area, said walkers were asked to socialise their dogs as much as possible during their young lives.
"As soon as they arrive, we ask the walkers to start getting the dogs used to everything a blind person will be seeing.
"While they are tiny, we ask walkers to carry them around in their arms, and get them used to noises like washing machines, the vacuum cleaner, roadworks, things like that."
Mr Warrington added that although he and his wife would be upset when Bobby left, the time was right for them to stop.
"We've thoroughly enjoyed it, but I think you get to an age where you have to relax a bit.
"Every one has gone with tears, it's a very sad time."