Speke man jailed for murdering girlfriend Kelsey Shaw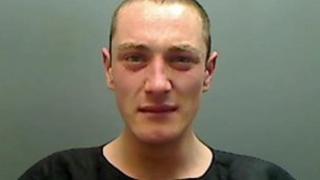 A 19-year-old Liverpool man has been jailed for the murder of his 17-year-old girlfriend.
Callum Wilcocks, of Hale Drive, Speke was convicted of killing Kelsey Shaw at a flat in Widnes, in April.
At Chester Crown Court, he was told he would serve a minimum jail term of 16 years.
Patricia Shaw, Kelsey's mother, said her daughter's death "devastated the whole family and has left a huge hole in our lives".
Wilcocks admitted to police he had taken cocaine and drunk vodka prior to the attack on Ms Shaw, with whom he had a three-year-old daughter, at the flat on Saturday 30 April.
He said the combination had made him aggressive.
'Devastating consequences'
After arguing with Ms Shaw, he grabbed her from behind and put his arm around her throat until she fell to the floor.
He then put his hand across her throat until she stopped breathing.
After Ms Shaw's friend alerted police to the attack, she was taken to Whiston Hospital, where she later died.
Ch Insp Chris Ankers said the case highlighted "the clear dangers of mixing drink and drugs and I hope it will make people realise the devastating consequences it can lead to.
"Wilcocks knew the effect it had on him, but still chose to do it and he will have to live with that for the rest of his life," he said.
'Keep memory alive'
Ms Shaw's mother, Patricia, said "the verdict is only a small justice for me, my family and Kelsey′s little girl".
"All I know is he can never hurt my beautiful girl anymore," she said.
"To have her taken away from us so suddenly is something we have all struggled to deal with, but we have had to stay strong for her three-year-old little girl who has been left without a mummy.
"Kelsey always remained a positive person and tried to make the best of her life and we will now ensure we keep her memory alive with her daughter and make sure she never forgets her.