Liverpool's St Andrew's Church to become student housing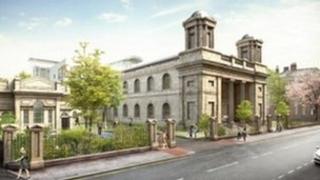 A derelict Liverpool city centre church is to be restored and developed into accommodation for 100 students.
St Andrew's Church, on Rodney Street, is a Grade II listed building which has been unused since the mid 1970s.
It will be renovated by Wirral-based Middle England developments.
The churchyard includes the grave of James McKenzie, according to local legend a gambler, who when he died in 1851 was buried sat upright, holding a winning hand of cards.
The church was built for Scottish Presbyterians and is one of the few surviving works designed by architect John Foster Junior.
Redevelopment work will include the rebuilding of one of the church's turrets and a remodelling of the exterior.
Liverpool City Council spent more than £100,000 in legal fees to acquire the site in 2008 and a further £150,000 since on emergency repairs.