North West young people fighting unemployment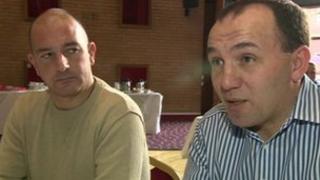 The number of young people signing on in the North West has more than doubled in the past 12 months.
But is it just the recession to blame for this figure? Employers have been telling BBC North West Tonight, they believe young people lack not just the skills to get a job today but the drive to work.
In Huyton I spoke to some of the 600 young people who were being interviewed for 100 new apprenticeships - and that was from a shortlist of over 1,000.
The Merseyside Apprenticeship Programme will place 100 16 to 24-year-olds in a variety of occupations with companies across Knowsley, Liverpool and Sefton as part of a European Social Fund-financed initiative.
Employers will receive financial support towards the costs of training their apprentice and candidates will be given a two-year paid apprenticeship and the opportunity to gain up to an NVQ Level 3 in a relevant subject, as well as invaluable work experience. Salaries are around £200 a week.
Common concern
Michael Phillips told me he'd applied for more than 500 jobs in the past two years. The vast majority he has never heard back from. He left today, quietly confident.
But chat to the employers here and you will hear a common concern. Many believed the young people lack the skills and the drive to get a new job.
Lee Verdon and Colin Lynskey own their own company, C & L Timber Kits. They both lost jobs in the last recession.
Colin said: ''This will be the tenth apprentice that we've employed. But only one of them has ever had the drive to make it all the way.''
Lee added: ''A lot of the lads we've taken on can't be bothered to get up in the morning, to get themselves into college.''
John Short has worked since he was 16 when he left school with O levels. He was here today to find an apprentice for his company, Hartley Precision Engineering.
But he said he believed young people were being failed by the education system.
He said: ''I need them to understand basic trigonometry. I need them to work out an angle. It's not complicated stuff. It's what I knew when I left school at 16. But some of these kids haven't got a clue.''
His views were echoed by Stephen Merry, MD of Primary Fluid Power. He said: ''I have stopped taking on 16 to 20-year-olds. They just aren't mature enough to work. They don't have the skills or the understanding.
"In some cases they show me lots of qualifications but they just can't answer simple questions.
"I've just taken on a 27-year-old apprentice. He's got a family, but he was happy to sign up to the apprenticeship terms and conditions and he's great. ''
But Michael Stapleton was proof that there are good candidates out there. He was taken on immediately by engineering firm, AEB Precision Ltd, of Knowsley Industrial Park.
''He's top notch,'' said owner Jeanette Butler. ''His qualifications speak for themselves.''
Tony Butler added: ''He's just what the company needs, he's got get up and go. He's ready to take the initiative.''
Michael is now in work after three years trying to find a job.
'Change my life'
He said: ''It's been so hard. So stressful. But here I am. I'm made up. It'll mean everything. It'll change my life.''
Councillor Ron Round from Knowsley Council said: "I'm pleased that so many candidates have got this far in the process, it really demonstrates the calibre of young people we have in the city region and how keen they are to get into employment.
"But schools need to prepare young people to leave school and get a job, not just go into higher education.''
At the moment there are 301,000 people out of work in the North West - 19,000 up on the previous quarter.
There has also been a dramatic rise in the number of young people who have been on benefits for more than six months.
The figure has more than doubled in the last year to 15,500.
Do young people lack the skills and drive to work? Or, in this overcrowded market place, can employers cherry pick much more than they could in the past?
As the claimant count rises, competition becomes ever more fierce and perhaps the number of people taking a chance on the young unemployed like Michael will fall.