Joshua Jones inquest: Violent boyfriend 'not checked'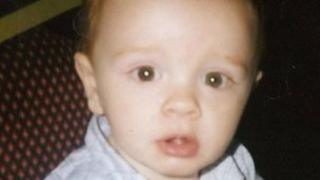 A man with a history of violence was not checked by social workers investigating suspicious injuries on a Cheshire toddler, an inquest heard.
Joshua Jones, two, from Runcorn, died in November 2007. His mother's partner Wayne Davenport was convicted of his manslaughter in 2009.
Davenport's trial heard he spent months unleashing a catalogue of abuse.
The inquest heard Joshua's mother Nichola Bowman lied to social workers about Davenport living with her.
Joshua was taken to Warrington General Hospital on 26 October 2007 by his mother and grandmother with a broken arm and a "constellation of other injuries", including bruises all over his body.
Despite "ringing alarm bells" with numerous doctors, social workers and police officers, after six nights in hospital Joshua was allowed back into his mother's care.
The inquest heard both Dr Rachel Webb, consultant paediatrician at Warrington Hospital, and social worker Vikki Irons took the mother at her word and full checks on Davenport were not carried out.
Under cross-examination from Leslie Thomas, counsel for the inquest, Miss Irons said that they should have carried out further checks.
The Warrington inquest then heard Miss Irons followed the medical advice of Dr Webb who had written a report which seemed to accept some of the explanations given by Bowman to account for her son's injuries.
'Safe to go home'
She said: "I think at that time I maybe followed the medical advice. They were saying Joshua was safe to go home in mum's care."
Miss Irons then told the inquest they were not aware that Davenport was living at the house and that she was not due to visit Joshua until 7 November - the day after he died and a week after his release from hospital.
Ms Bowman was convicted of causing or allowing his death and given a suspended sentence.
The hearing continues.